Crib Safety Tips for Nursery
Please share these great crib safety resources and tips for a happy, healthy, and safe nursery.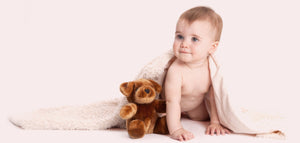 FAQ
Crib safety standards evolve as we learn more about the true risks of even popular and long-standing products. In 2011, the federal government banned drop-rail cribs after they were linked to infant suffocation deaths. Experts are now advising that parents avoid crib rail bumpers and crib tents for similar reasons. Parents can have peace of mind if they choose a new crib, use a tight-fitting, firm mattress, and put the baby to sleep on its back on a bare mattress.
Crib slats need to be close together in order to prevent a baby's head or torso from slipping through the gap. New cribs are manufactured to a strict standard of no more than 2 and 3/8 inches between slats. If a soda can passes easily through the slats, the crib is not safe. If you are questioning the width of a crib you are considering buying, there's no harm in checking with a ruler in the store.
Drop side cribs have been banned in the US since 2010, after they were linked to several infant deaths since 2001. Many parents enjoyed the convenience of this once popular design, but they put babies at risk of getting trapped and suffocating. Using any second hand crib comes with risks, but parents should never use a drop-rail model.
Crib Safety is Essential For a Safe Home
As a parent, your number 1 job is to keep your child safe. It's natural to be concerned over your child's well-being, at all hours of the day and night—but the last thing any new parent needs is to lose sleep worrying about the safety of their child's crib, mattress, or bassinet. When your child is sleeping, you should too! When it comes to your child's safety in the nursery and at the home, you can count on Delta Children.