6 Activities for Kids To Have Fun Outdoors
Spending time outdoors can provide children with a wide range of physical, cognitive, social, and emotional benefits that can contribute to their overall growth and development. They offer a break from screens, promote healthy habits, and allow children to engage with the world around them in meaningful ways.
It's time to get off the couch, go enjoy the sunlight and take in some Vitamin D with your little ones. Not sure where to start? See below for some fun and easy outdoor activities for kids. Make sure you apply sunscreen for you and your children before you go out and re-apply as needed during your time in the sun! 
1. Go to the Park
It may seem like the obvious choice, but parks are great places for your child to run around safely, explore playgrounds and play with equipment you may not have at home. Your child can make new friends and learn how to work with and care for others when playing together. You can also bring chalk and draw on the ground or create a hopscotch outline to play with friends. You can even pack a picnic lunch and enjoy a meal outdoors. 
For convenient and quick travel with younger children, these lightweight strollers are a must, especially when your child is tired from playing around and does not want to walk anymore. Or, if you'd like to bring along some gear - a great option for growing families is a Stroller Wagon. They offer tons of storage, different ways to ride, and they're ideal for kids of varying ages.
2. Exercise in a Fun Way
Let's Jump!
Jumping helps improve the heart and lungs, which is important for a growing child, so you can try different activities that involve jumping.
Jump roping aids in building your child's gross motor skills, coordination, and focusing skills. This activity is suitable for children as young as 3 years old, requires only 1 piece of equipment, and is a super-fun activity. 
Trampolines are also a fun toy for jumping. It promotes active play and helps develop balance, improve coordination, and instill healthy habits at an early age, this trampoline will entertain for hours. And if you have a little more outdoor space, your kids can try one of our bounce houses. In just one minute, our Bounce Houses fully inflate and feature high mesh walls to keep your kids safe when jumping.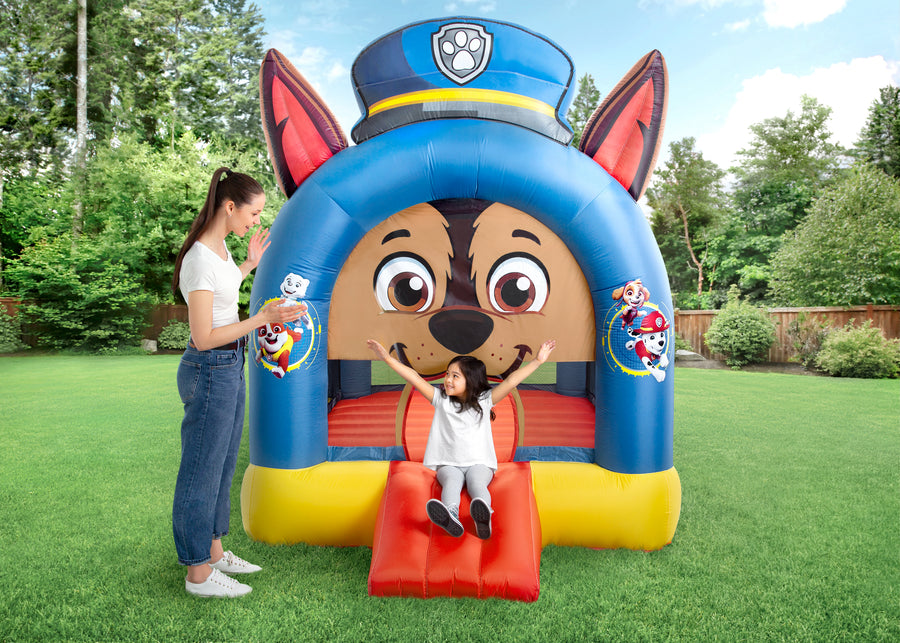 Dance with Music Outdoors
Play some of your child's favorite songs and see how they move along to the beats! Music helps children learn sounds and what the words mean more easily as they may feel excited and happy when hearing them. People have different ways of expressing how they feel, and dancing is one of them, so see how your child dances and moves along with them. If your child is very young, they can use musical walkers to practice their walking while jamming to the sounds. Have fun enjoying the moment while smiling and laughing!! 
3. Play Sports
Outdoor sports like Soccer and Basketball will help your child learn to assess risks, make decisions and overcome fears, building resilience and self-confidence. It is also a safe environment to challenge themselves and develop their abilities.
Some children start running around playing soccer as young as the age of 3. Playing soccer requires a lot of hard work, cooperation, and communication skills. There are many benefits to playing soccer, as it helps build your child's character, endurance, muscle tone, bone strength, motor skills, and more! Who knows, your child just might be the next soccer star! 


Many children begin playing basketball when they are 5 years old by using shorter basketball hoops. Basketball requires running, jumping, blocking, dribbling, and shooting the ball into a hoop, making it a great sport for improving your child's hand-eye coordination, agility, pivoting, endurance, balance, and more. Just like soccer, the game is fast-paced and relies heavily on teamwork which allows your child to build teamwork skills. If you have a hanging net that a ball can, go through, your child can practice aiming and throwing it in. They will love the satisfaction they feel when the ball goes in and can challenge themselves from many different positions.
4. Take a Bike Ride
Children as young as 3 years old can start learning how to ride a bicycle or tricycle. Most children begin with training wheels to help them keep the balance of the bike without having to worry about falling. 
Riding a bicycle will increase your child's joint movement, posture, emotional wellness, cardiovascular health, and more. Bike riding is simply fun! The sensation of the wind in their hair, the feeling of speed, and the joy of movement all contribute to a great experience, making it a favorite outdoor activity for many children.
Remember to ensure that children wear appropriate safety gear, such as helmets, and knee pads whenever they ride their bike to prevent injuries.  
Bonus tip: Don't worry if your child is still too young, they can still enjoy a comfortable ride in our Bike Trailer. Perfect for smooth and safe rides.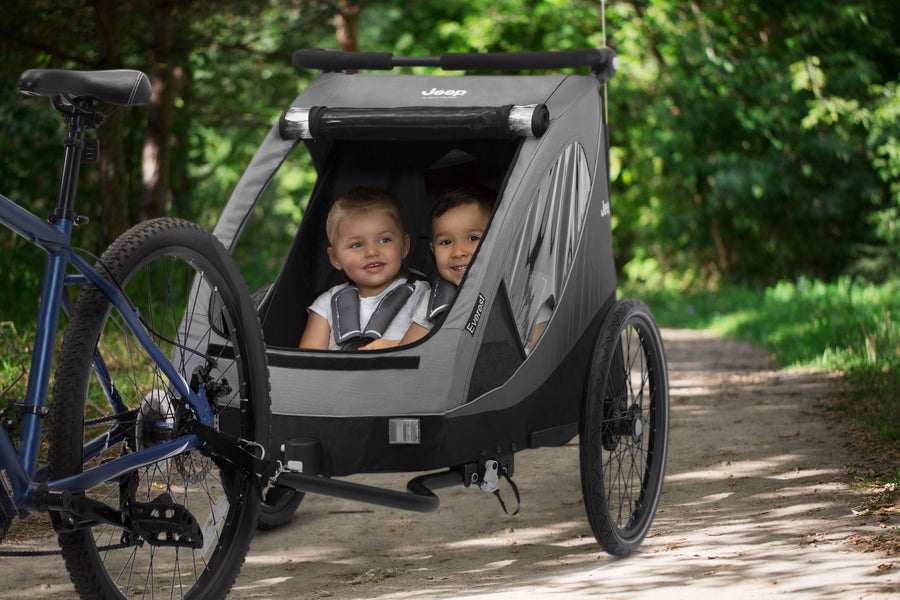 5. Go Camping
Camping allows children to explore nature and develop a sense of adventure and curiosity. They can learn about plants, animals, and ecosystems, fostering a sense of wonder, and respect for nature. We recommend bringing tents and nap mats to sleep in and of course, your child's favorite toys to keep them comfortable away from home. 
The nap mats will allow your child to sleep quickly, as they are made to be comfortable with the use of cotton and polyester materials. Not only are these nap mats comfortable, but they are also travel-friendly, as they can be easily rolled up and carried with the handle on the side. 
If you don't want to travel far from home, you can recreate a camping site in your backyard and let your child's imagination run wild!
6. Pretend Play Outdoors
Having a playhouse enables your child to experience what it is like to have their own house! Invite their friends over for them to pretend play being an adult. You can set up picnic tables outside of the playhouse so that the children can eat outside or pretend to have a tea party. We love these Outdoor Playhouses that are so easy to assemble and weather resistant!
Finally, remember to adapt these activities to your children's age and abilities and ensure their safety while participating in any outdoor adventure.
Load Full Post ↓
Load Full Post ↓